Indulge in one of life's greatest pleasures... a vacation on the beach. Relax in a beautiful beachfront resort on one of South Florida's most spectacular stretches of shoreline.
Take a refreshing dip in our heated, fresh-water pool; stroll barefoot on the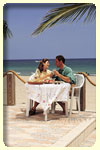 beach; explore quaint shops; enjoy first-class cuisine; or just lounge around our courtyard and soak up some sun. Enjoy an exhilariating game of tennis or volleyball, a relaxing game of golf, or an invigorating bike ride... the choices are all up to you, and all within walking distance.
If you are looking for adventure, opportunities abound! Surfing, snorkeling, scuba diving, fishing, rollerblading... the sky is the limit. From bait to boat rentals, bikinis to bicycles, everything you need is available at the local shops.
Pamper yourself in an intimate, ocean-front villa! Tropic Seas Resort provides everything you'll need, including a variety of vacation options. Brightly decorated hotel rooms, efficiency apartments and one-bedroom apartments, complete with kitchenettes for your convenience, are ready and waiting for you. And all of our rooms feature cable TV, direct dial phones, and daily maid service, not to mention the breath-taking ocean views! Laundry facilities, barbecue grills, and free parking are on site.
With so many choices at Tropic Seas Resort, you'll be sure to have the vacation you've always wanted. And with our affordable prices it can last longer than other hotels.


20% off
your stay in
June
2011
Call today to reserve your vacation
Within the United States


Internationally

Stay connected:
When you just can't get away... Enjoy our in-room Free WiFi connection for work, social picture uploads or just fun emails.



Join Tropic Seas
on our Social Sites: